How to Use Alaska Miles on American Airlines: A Comprehensive Guide
Picture yourself strolling along the scenic beaches of Maui or exploring the bustling streets of New York City, all made possible by your Alaska miles. Sounds too good to be true? It's not a dream but a well-kept secret of savvy travelers who know how to use Alaska miles on American Airlines. Yes, those miles you've been accumulating are more than just numbers in an account; they're your ticket to new experiences and vibrant cultures.
But that's not all. What if we told you that those miles could also be a goldmine, ready to be tapped into? That's right, you also have the opportunity to transform your Alaska miles into instant cash! Whether you're a frequent flyer or just dipping your toes into the world of travel rewards, this comprehensive guide is your treasure map. Let's embark on this rewarding journey together!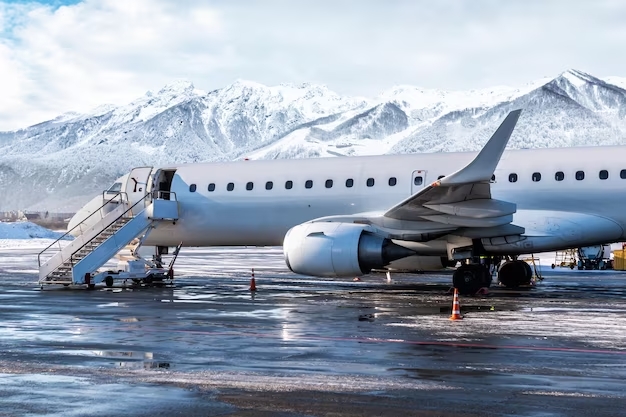 How Much Is 20000 Alaska Miles Worth?
So you've been racking up Alaska Airlines miles, a favorite among frequent flyers, especially if you often travel along the West Coast. With 20,000 Alaska miles in your account, you might be wondering what they're actually worth. At a base rate, those 20,000 miles could be equivalent to about 150 USD cash.
You might be tempted to hang onto those airline miles, thinking you can score a great flight deal down the line. But let's be honest, booking a flight with miles isn't as simple or as valuable as it seems. Ever tried to book an award seat during peak seasons or on popular routes? Chances are you either failed or ended up using way more miles than you'd imagined. The reality is that these miles aren't as flexible or as valuable as you think they are.
That's where Top Dollar Payouts comes in. We offer you a hassle-free way to actually get something valuable from those miles—cash. No more searching for that elusive perfect award seat, no more worrying about expiring miles. Turn those diminishing assets into something that really counts. After all, cash is king. Consider selling your miles to Top Dollar Payouts; it's the smart financial move for the savvy traveler.
Is Transferring Alaska Miles to American Airlines Possible?
The notion of transferring airline miles from one carrier to another can be alluring, particularly when dealing with popular programs like Alaska Airlines and American Airlines. It opens the doors to a myriad of travel possibilities, but does the idea of transferring Alaska miles to American Airlines bear any fruit?
Unfortunately, the answer is a definitive no. The current structure of most airline loyalty programs, including both Alaska and American Airlines, does not permit the direct transfer of miles from one to the other.
While it's true that alliances like Oneworld offer some flexibility in how to redeem miles, there are significant caveats that often go unmentioned. For example, yes, you can use Alaska Airlines miles for American Airlines flights and vice versa, but this isn't as straightforward as it sounds. Availability of award seats through partner airlines can be extremely limited, forcing you to settle for less-than-ideal flight times, layovers, or even dates.
Furthermore, let's not forget the diminishing value of miles, particularly with airlines like American Airlines. The trend is clear: year over year, you'll need more miles for the same flights. Essentially, the miles you're holding onto are a depreciating asset.
And while earning miles through various avenues may seem advantageous, each method comes with its limitations. For instance, transfer partners often entail high fees and unfavorable conversion rates, eroding the value of your miles even further.
How to Use Alaska Miles on American Airlines
While transferring Alaska miles directly to American Airlines is not an option, using those miles for flights on American Airlines is entirely possible. Travelers can reap the benefits of their earned Alaska miles by booking American Airlines flights. Here's a step-by-step guide to help you unlock this opportunity:
Finding and Booking Flights
Sign in to your Alaska Airlines Mileage Plan account. Use the search function to find flights on American Airlines by selecting your preferred destinations and dates. Look for the option to filter by partner airlines and select American Airlines. Select the flight that fits your schedule and mileage balance, then double-check the details, ensure that you are using Alaska miles available partner airline flight, and finalize the booking.
While using Alaska miles to book American Airlines flights might appear to be a straightforward process, it often hides the harsh reality of limited availability and increasing mileage costs. If you've ever found yourself spending hours searching for that elusive award seat or getting frustrated with blackout dates, you're not alone.
This time-consuming hassle is a far cry from the supposed flexibility and value that airline miles promise, making you wonder if holding onto those miles is truly worth it. That's why more travelers are opting for a more straightforward approach by converting their miles into cash through Top Dollar Payouts.
Understanding Award Charts
Familiarize yourself with the award chart's zones that represent different geographical regions. Look for the Alaska mileage plan miles requirements based on your travel class and destination. Be aware of peak and off-peak seasons that might affect mileage requirements.
However, it's important to realize that these award charts are often subject to change, with airlines frequently devaluing miles by adjusting these charts. While you may strategize to book during off-peak times, you'll often find that award seat availability during these times is incredibly limited or nonexistent.
Yet, even with thorough planning, you might find that your miles don't go as far as they used to, making you question their true value. As miles devalue and restrictions tighten, you might wonder if it's better to convert those miles into something more stable and flexible. This is where Top Dollar Payouts can make a difference. By selling your miles, you're opting for an asset that won't depreciate overnight: cash.
Utilizing Partnerships and Alliances
Leverage the Oneworld alliance as Alaska's partnership with it opens doors to redeeming miles across various partner airlines, including American Airlines. Explore the different routes and benefits provided by partner airlines.
While direct transfers aren't available, some credit card points can be transferred to Alaska miles. Utilizing partnerships with partner flights and alliances extends the flexibility and possibilities of how you can use Alaska miles, encompassing American Airlines and beyond.
British Airways
Cathay Pacific
Finnair
Iberia
Japan Airlines
Malaysia Airlines
Qantas
Qatar Airways
Royal Air Maroc
Royal Jordanian
S7 Airlines
SriLankan Airlines
Not sure when you can use your Alaska Miles on American Airlines? The best option is to sell them at Top Dollar Payouts! Just send us a quote and get paid once approved — as easy as that.
How to Earn Alaska Miles
Alaska Airlines' Mileage Plan is an attractive way to earn miles for travelers. Miles can be accrued through flying on Alaska Airlines or its partners, including the Oneworld alliance members like American Airlines and British Airways. Alaska miles are unique in being issued based on flight distance, not the ticket price. The amount varies according to fare classes and elite status, with various bonuses available.
Additionally, credit card offers such as the Alaska Airlines Visa® credit card and the Alaska Airlines Visa® Business card provide substantial bonuses and exclusive benefits. Transferring the points from Marriott Bonvoy is another possibility.
Outside of flying and credit cards, there are diverse ways to earn Alaska miles. The EasyBiz program allows businesses to earn rewards on employee travel. You can also earn miles through hotel bookings, car rentals, dining, online shopping, and occasionally by purchasing miles during promotions. With various opportunities tailored to different travel and spending habits, Alaska's Mileage Plan provides a flexible path toward rewards.
How to Earn Additional Benefits When Utilizing Alaska Miles on American Airlines
In the realm of airline partnerships, the connection between Alaska and American Airlines is notably advantageous for travelers. Should you seek additional benefits while utilizing Alaska Miles on American Airlines, fortune favors you! Here's how you can maximize your rewards and enhance your flying experience:
Extra Comfort in the Main Cabin
Feel the difference with additional legroom in the main cabin. When you redeem Alaska miles, you can enjoy spacious seating that adds a touch of luxury to your journey. Research seating charts beforehand to ensure you're selecting seats that truly offer more space, enhancing your comfort on long flights.
Preferred Seating for Elite Members
If you're an MVP Gold 100K or 75K member, you gain access to preferred extra room seating. The preference for comfort is a delightful perk that adds to the pleasure of flying. It's not just about more space; it's a recognition of your loyalty and a way to enhance your travel experience.
Free-of-Cost Space with Advanced Accessibility
Enhance your experience with no-cost extra space, offering more freedom and comfort during your flight. Inquire about availability for no-cost extra space if you require advanced accessibility. It's essential for passengers with specific needs to communicate with the airline to secure the best accommodation.
Priority in Checking and Pre-Reserved Seats
Utilize Alaska miles to get ahead in the queue. Priority checking and pre-reserved seats provide a smooth, stress-free boarding process. Say goodbye to waiting in long lines and enjoy the convenience of expedited service. Arriving early or checking in online can also help you secure the best seat and minimize your time in line.
Extra Discounts on In-Flight Services
Indulge in a variety of inflight services at reduced costs. From meals to entertainment, redeeming Alaska miles provides added value to your experience.
Entertainment at Unbeatable Prices
Make your journey enjoyable with access to a host of entertainment tools at the cheapest fares. It's your ticket to relaxation in the skies. Pre-loading personal devices with movies or shows can be a cost-effective alternative to enjoy your favorite entertainment in the air.
Flexible Ticketing Across Classes
Whether it's primary, basic economy, premium economy, business class only, or another class, you can find tickets at reasonable ranges, giving you the choice to fly how you want.
Refunds on Non-Canceled Flights
Under certain terms and conditions, you may be eligible for a refund on non-canceled flights, offering peace of mind for unexpected changes. This provision offers a safety net, allowing you to make travel plans with confidence, knowing that you have options should your circumstances change.
Customer Support When You Need It
If confusion arises or more information is needed, Alaska Airlines' customer service is ready to guide you in how to best use your miles for booking.
The collaboration between Alaska and American Airlines goes beyond merely the ease of reserving flights. It's a collaboration designed to make your journey memorable, enjoyable, and affordable. With the safety and comfort that these airlines provide, leveraging Alaska miles on American Airlines is a smart move to make every mile count.
Other Ways to Use Alaska Miles: Beyond American Airlines
Alaska Miles aren't just for flying with partner airlines; they open the door to a plethora of other opportunities and experiences. Here's how you can make the most of your Alaska Miles:
Hotel Stays
Convert your Alaska Miles into comfortable stays at luxury hotels and resorts. Choose from a wide range of participating chains and boutique hotels, and turn those miles into relaxing getaways.
Car Rentals
Need wheels on your next adventure? Use your Alaska Miles to rent a car from popular rental agencies. Whether you're looking for an economy ride or a luxury vehicle, your miles can get you moving.
Experiences and Excursions
Some travel rewards programs offer unique experiences and excursions that can be purchased with miles. From cooking classes with local chefs to guided tours of hidden gems, check if your Alaska Miles can unlock these exclusive experiences.
Gift Cards and Shopping
Treat yourself or a loved one with gift cards from top retailers, or shop directly from an online catalog, using your Alaska Miles. From tech gadgets to fashion accessories, your miles can go beyond travel.
Donating to Charity
Feel like making a difference? You can donate your Alaska Miles to charitable organizations. Many airlines partner with charities, providing you with a way to contribute to a cause you believe in.
Selling Your Miles
There may be times when you don't feel like flying to save costs on travel taxes and fees. If you're not planning to travel soon or have more miles than you can use, consider selling them to Top Dollar Payouts.
This option allows you to convert your miles into cash, providing you with flexibility and often getting you more value than traditional redemption options. But unlike most mileage brokers, you don't have to wait days or weeks to receive the payment. Approval and payment transactions will be on the same day we receive your submission!
Tips and Tricks for Maximizing Alaska Miles
While many believe that maximizing Alaska Miles involves a careful mix of best practices and avoiding pitfalls, the real picture is often less rosy. It's true that following tips like watching for promotions or being flexible with travel dates sounds promising, but how often do these really work in your favor?
For instance, promotional offers are fleeting and often come with strings attached, while booking through preferred airline partners might lock you into less-than-ideal routes or schedules. Even being flexible with travel dates isn't a guarantee for optimal value, especially when award seat availability is scarce.
Common mistakes like letting miles expire or booking at peak times merely scratch the surface of the issue. The underlying problem is the depreciating value of miles and the ever-tightening restrictions on how you can use them.
In this light, maybe it's time to question if hanging on to your Alaska Miles is the smart move. Instead, why not consider converting these fleeting assets into something more tangible and universally valuable? With Top Dollar Payouts, you can turn your depreciating miles into cash, giving you the freedom to spend or save as you see fit.
Conclusion
In this guide, we've demystified the process of using Alaska Miles on American Airlines, offering tips for maximizing travel perks. While these strategies may seem advantageous, it's crucial to scrutinize their real-world utility. Award charts change and mile values depreciate, often leaving you with less than you bargained for. Even perks like extra legroom and priority checking come with caveats—limited availability and rising costs.
The harsh reality is that unused miles can easily go to waste or lose value over time. But there's a practical solution: Top Dollar Payouts. By converting your idle miles into cash, you ensure their value remains constant and flexible, tailored to your needs. So before planning your next trip, weigh the pros and cons of holding onto miles versus transforming them into a stable asset with Top Dollar Payouts.
FAQs
Can I use Alaska miles to upgrade on American flight?
Yes, Alaska Airlines and American Airlines are partners, and they have a codeshare agreement. This partnership allows for smoother connections and reciprocal benefits transfer miles but does not extend to using miles interchangeably for upgrades. Despite the surface-level perks of this partnership, the limitations on mile usage make it worth questioning the real value of holding onto these miles, as opposed to converting them into cash through Top Dollar Payouts.
Is Alaska Air affiliated with American Airlines?
Yes, Alaska Airlines miles can be used to upgrade flights on American Airlines. Alaska's miles are typically restricted to its own flights and those of its specific partners. However, even when you can use miles for upgrades, availability is often limited, and the miles needed for an upgrade are continually rising. This diminishing value and lack of flexibility offer yet another reason to consider selling your miles to a trusted service like Top Dollar Payouts.
Can I transfer Alaska miles to British Airways?
Yes, you can directly transfer Alaska miles to British Airways. While they may be partners for booking award flights, the miles aren't transferable between the programs. However, it's important to note that transferring miles often comes with limitations, including fees or less-than-favorable conversion rates. These downsides can further devalue your miles, making a strong case for converting them into cash through a service like Top Dollar Payouts.
Can you cash out Alaska miles?
Alaska Airlines miles are typically used for travel-related redemptions and cannot be cashed out directly. Some exceptions may apply, such as using miles for magazine subscriptions or donations, but turning them into cash is generally not an option. However, by selling your miles to a service like Top Dollar Payouts, you can actually convert these restrictive assets into cash, maximizing their value for your personal use.